You're going to a new restaurant, a hot restaurant or an unfamiliar neighborhood joint. Wherever you might be eating tonight, you're bound to ask the question, "What's good here?"
So, we're here to tell you the five most exciting, tantalizing, must-have dishes from the eateries you're visiting.
Stepping into Atlantic Grill is like taking a step back in time to the golden age of NYC restaurants—the Algonquin, the Rainbow Room, Bemelmans Bar. Its glittering dining room offers the intimacy of snug, plush booths, while on the walls, mahogany-colored paneling frames large, gleaming mirrors that reflect dramatic crystal chandeliers.
The chef behind Atlantic Grill, Antonio Salvatore, is Michelin-starred for La Table d'Antonio Salvatore in Monaco, but what you get at Atlantic Grill is a luxe experience that's still relaxed enough for a weeknight dinner. Whether you're enjoying a casual night out with friends or splurging on a celebration, here are the five menu items not to be missed.
The Quickie Version
Tart, bright Lampone Spruzzo
Crispy, umami-rich red snapper tempura
Fresh, gently chili-spiked Atlantic fish ceviche
Old-school revived lobster thermidor with mojo potatoes
Tropical, luscious lychee cheesecake with rose petal ice cream
The Full Monty
Lampone Spruzzo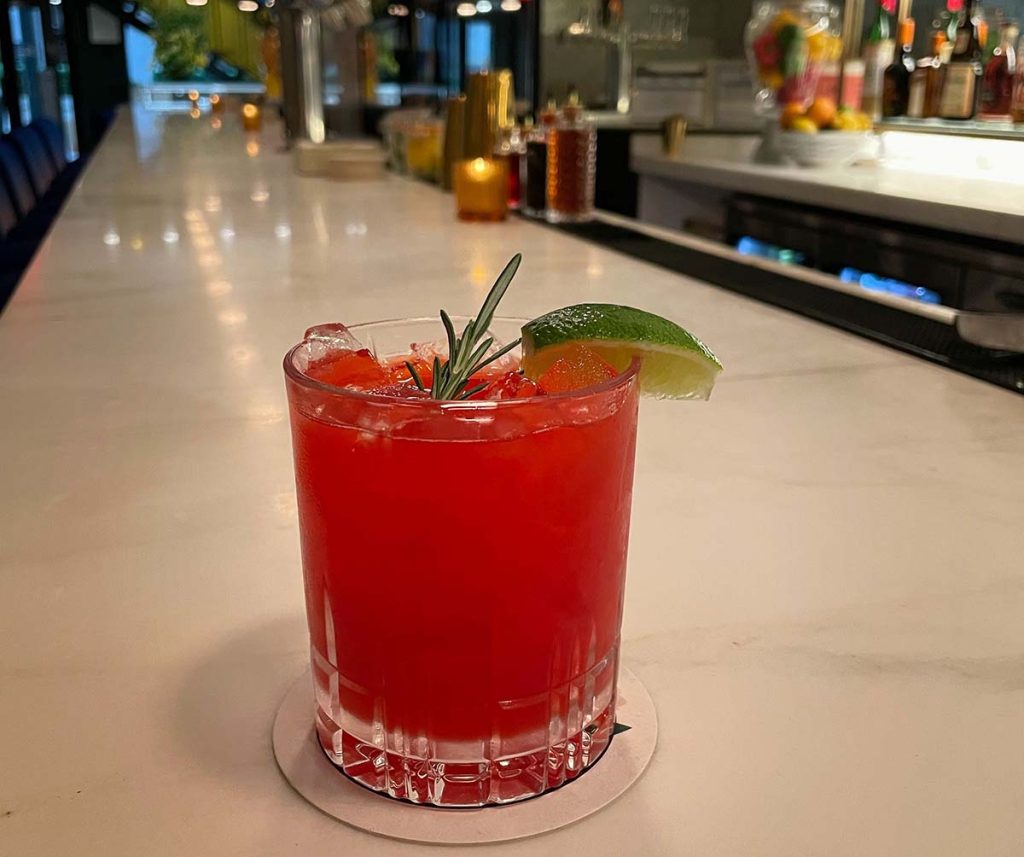 When you peruse the cocktail menu, you'll notice this drink is the only one under "nonalcoholic." but it's so good, you won't miss the lack of choice. Though the base of this drink is club soda, it packs genuine flavor: its raspberry purée is sweet, yet tart, but that deep red berry intensity is brightened by aromatic rosemary syrup and lemon juice. It is, in my opinion, a perfect aperitif.
Red Snapper Tempura
We ordered this red snapper dish at the recommendation of our server, and it did not disappoint. Tempura-battered hunks of the fried white fish are served inside the showstopping body of the hollowed out, whole fried snapper. The dish offers compelling contrasts: mild, light and crispy morsels of fish and the savory umami of teriyaki sauce. Don't bother fighting it—you'll clear the plate.
Atlantic Fish Ceviche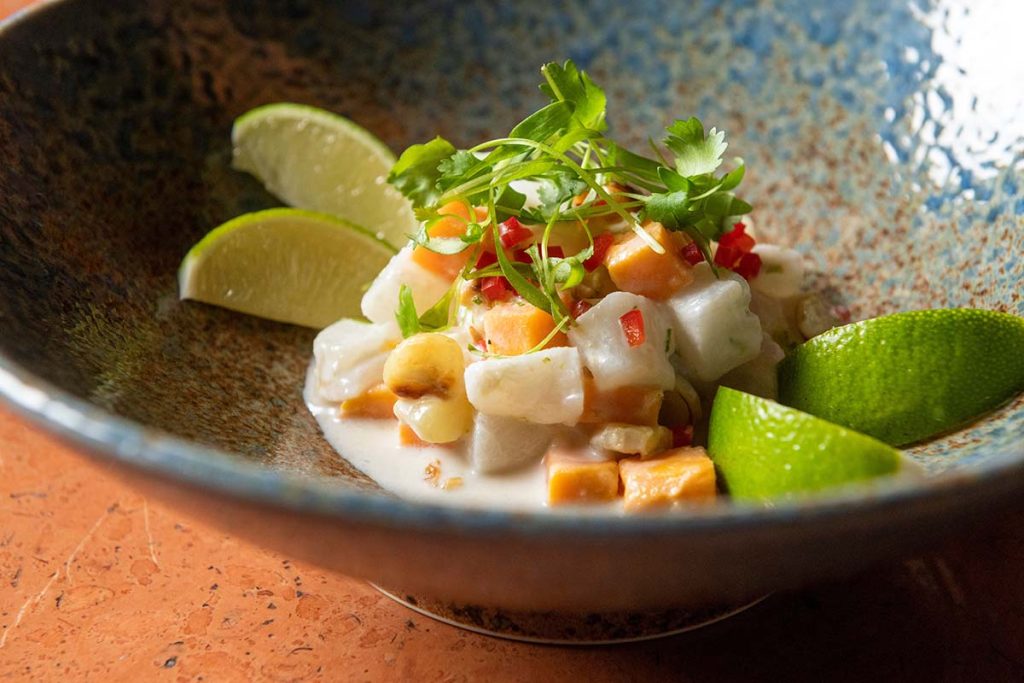 When the server placed the bowl of ceviche in front of us, it was stunningly green. The ceviche itself was mint green, garnished with Kelly green herbs and lime wedges. The Icelandic cod is tender and gently chili-spiked underneath the cooling, tropical mellowness of coconut milk. I particularly loved the way that large Peruvian corn kernels offset the silken texture of the fish with some chew.
RELATED: How to Make Atlantic Grill's Fish Ceviche
Lobster Thermidor with Mojo Potatoes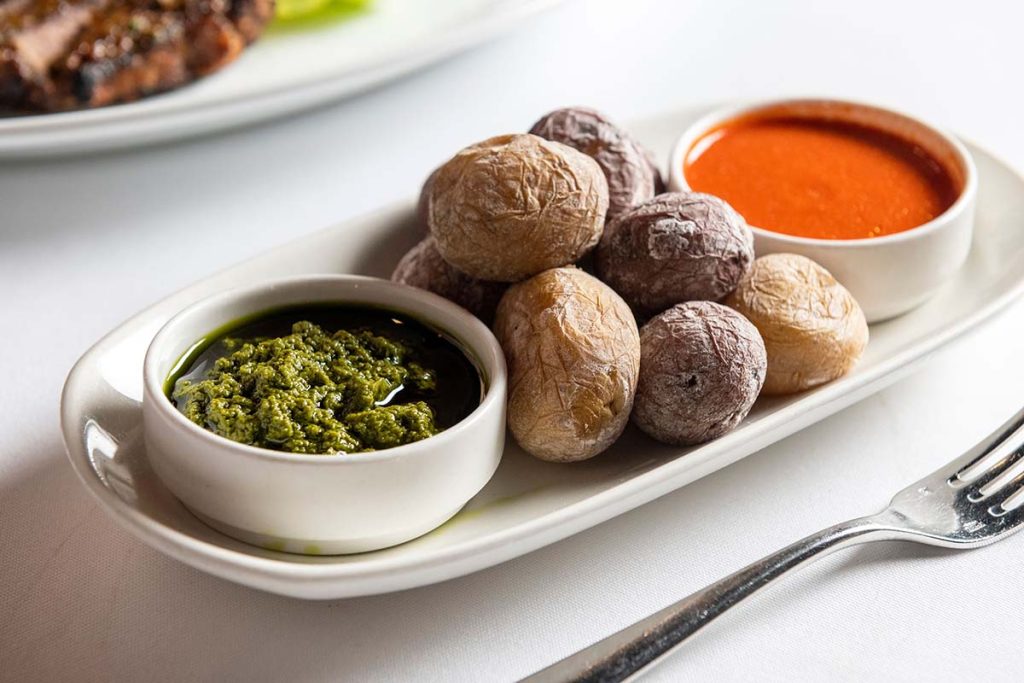 One of the oldest of old-school French dishes, it showcases succulent lobster that's been simmered in a creamy, slightly sweet sauce before being topped with Parmesan and broiled. It's a luxurious dish from a luxurious time, and it's well-suited to the glamor of the dining room. With the lobster, we ordered a side of potatoes with mojo and red jalapeño sauces, which offset the (welcome!) richness of the lobster. Both sauces are so tasty, but the garlicky, herby mojo was my favorite.
Lychee Cheesecake with Rose Petal Ice Cream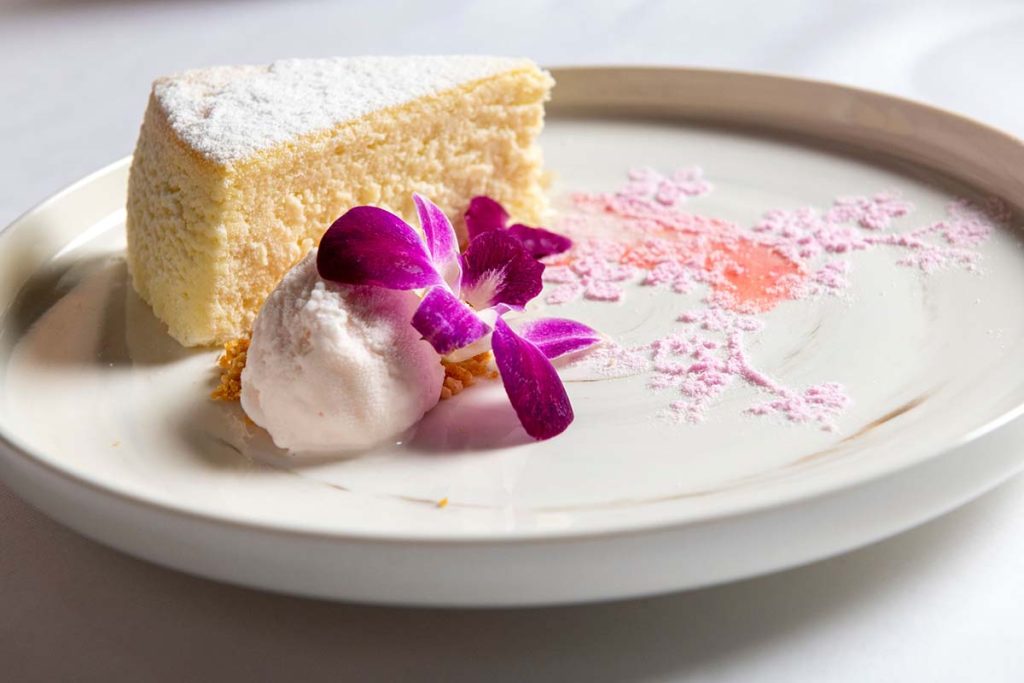 Normally, cheesecake sounds anvil-like at the end of a big meal, but this light, fluffy Japanese cheesecake is the total opposite. It's mild lychee flavor is lovely, but the texture of this cheesecake is just bananas—so pillowy, you just want to sink in and stay a while. The unsung hero, though, is its partnering rose petal ice cream. I do not like rose as a flavor. At all. But this ice cream was gently floral, not soapy and had a slight fruitiness that almost veered into bubblegum land. Set on some peanut butter crunchies, and this dessert really soared. I missed it the moment I got home.
Photos courtesy of Atlantic Grill.