We've gathered three amazing recipes from the chefs who hosted Pecorino Romano PDO on tour with Tasting Collective. Go ahead and enjoy making these delicious dishes at home. Buon Appetito!
Spaghetti Cacio e Pepe
By Chef Chris McDade, Popina
SERVES 2
Relying on just two ingredients—cracked black pepper and Pecorino Romano PDO—this traditional pasta of Rome is the perfect showcase for the cheese's sparkling saltiness and umami-rich depth of flavor. Says McDade of his version, "Spaghetti cacio e pepe is one of my favorite pasta dishes to cook at home and in my restaurant. It uses few ingredients, but it can be very challenging to achieve a perfectly creamy sauce." He advises carefully following the steps he outlines below to avoid what he calls a, "dreaded clumpy and stringy mess." When perfectly executed, spaghetti cacio e pepe is a lush, silken pasta dish that fully expresses Pecorino Romano PDO's savory nuttiness and tang.
INGREDIENTS
12 ounces spaghetti
6 ounces Pecorino Romano PDO
A few large twists of black pepper (this is to taste but I like mine with a peppery punch)
METHOD
In a pot set over high heat, bring just enough water to cover the pasta to a boil and add a small pinch of salt. The goal here is to achieve the starchiest pasta water possible; this will help you to get a perfectly creamy sauce. Pecorino Romano is a saltier cheese, so be gentle when adding salt to the water. When the water boils, add the pasta and cook to the recommended time on package. I like to check a minute or so before to make sure my spaghetti is al dente. While pasta is cooking, in a small pan over medium heat, toast the cracked black pepper just until you can smell the aroma of toasted pepper. Transfer the pepper and all but a few large pinches of Pecorino Romano PDO to a mixing bowl and stir.
To the bowl, add ⅔ cup of the starchy pasta water and vigorously stir until you have a creamy and emulsified sauce. Remove the cooked pasta from the water (making sure to reserve some of the water) and toss this into the cheese and pepper mixture until a silky sauce develops. If you'd like to thin the sauce a bit, add a bit of the reserved pasta water.
Divide cacio e pepe between two bowls and sprinkle the remaining cheese overtop.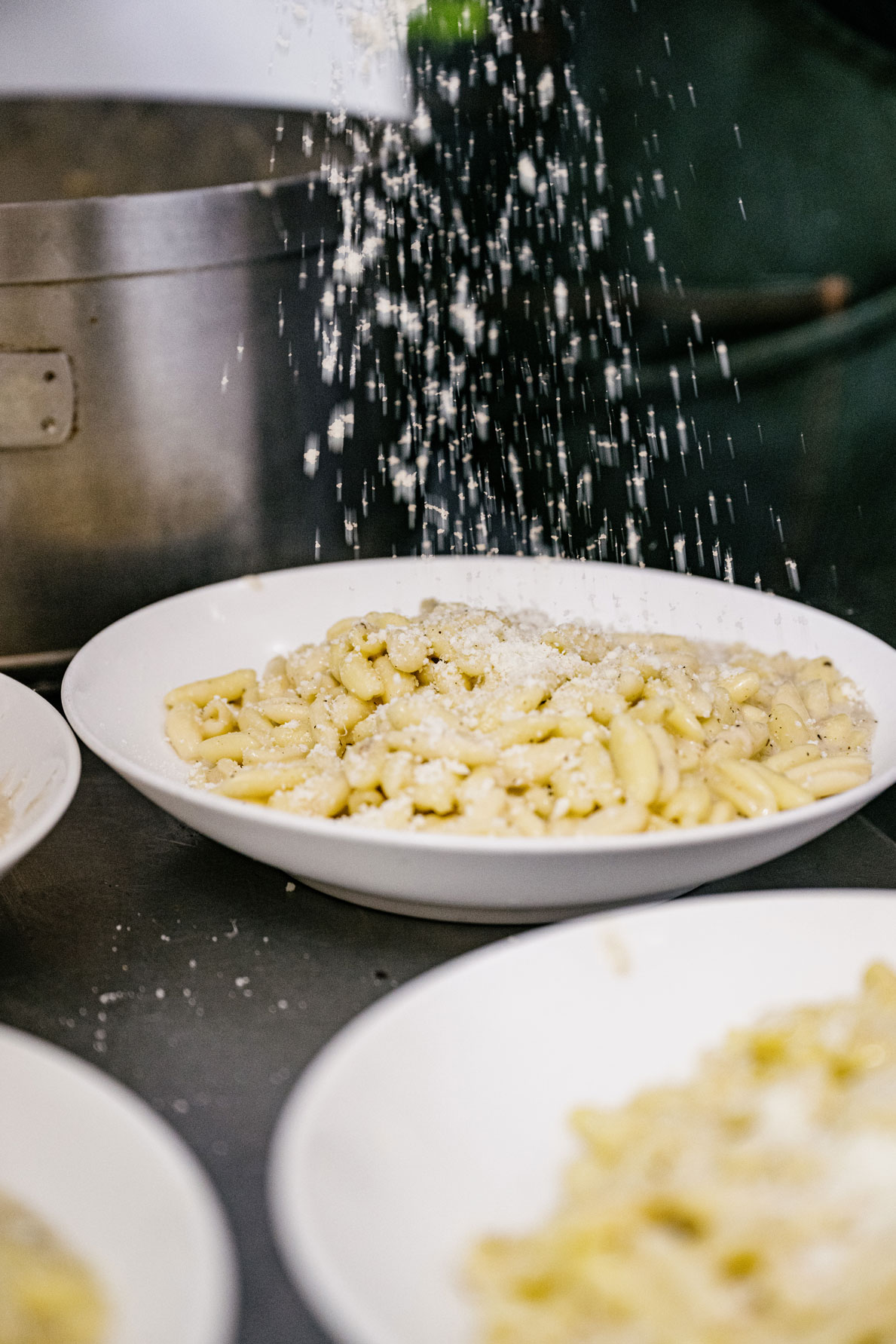 ---
Roasted Broccolini and Caulilini with Caesar Dressing
By Chef Jamie Kembrey, Ivory Pearl
SERVES 6
This easy roasted vegetable dish is elevated by the otherworldly beauty of its showy brassicas, broccolini and caulilini, which are in turn elevated by a truffle-haunted dressing that riffs on classic Caesar salad dressing. Instead of the standard egg, lemon, anchovies and garlic of traditional Caesars, Chef Jamie Kembry uses umami-rich Kewpie mayonnaise and colatura di alici, an Italian anchovy sauce very much like garum. Kembrey also swaps out the Caesar salad's traditional inclusion, mild Parmigiano Reggiano. Instead, he showers the vegetables with tangy, bright Pecorino Romano PDO, a cheese that, like garum, dates all the way back to ancient Rome. In this dish, Pecorino Romano PDO's sprightly intensity stands up to the titanic flavors of porcini and truffle oils and colatura di alici.
FOR THE CAESAR DRESSING
6 tablespoons colatura di alici
2 tablespoons dijon mustard
10 tablespoons EVOO
6 tablespoons Urbani Brand white truffle and porcini sauce
2 tablespoons Urbani Brand white truffle oil
1 teaspoon white pepper powder
1 teaspoon ground pink peppercorns
⅓ cup fresh lemon juice
1½ cup Kewpie mayo
Pecorino Romano PDO (for garnish)
FOR BROCCOLINI
2 Heads broccolini
Caulilini (equal weight to broccolini)
METHOD
Preheat oven to 400F. Make the Caesar dressing: in the carafe of a Vitamix blender, combine all the dressing ingredients and blend until smooth and creamy. Toss the broccolini and caulilini in a few splashes of olive oil, and roast until the vegetables are tender and lightly browned, 30-40 minutes. To serve, place the broccolini and caulilini on a platter, dress with the Caesar dressing, top with crispy garlic and fresh ground pink peppercorn. Garnish with tobiko, and finish with a beautiful grating of Pecorino Romano PDO!
---
Risotto with Seared Pork Belly, Peas, Mushrooms, and Pecorino Romano PDO
Chef Fabian Hernandez Blanco, Osteria Langhe
SERVES 4 AS A FIRST COURSE
If there was ever a match made in heaven, then that pairing is mushrooms and Pecorino Romano PDO. The cheese's own intense umami goes hand in hand with the mouthwatering glutamates in mushrooms, each echoing and amplifying the flavor of the other. In this dish, Chef Fabian toasts short grain rice with mushrooms, then slowly teases the starch from the grains by stirring in wine, chicken stock, and cream. When the rice grains are soft and bathed in a silky, flavorful sauce of cream, stock, and glutinous starch, he adds warm, seared pork belly, peas, and stirs in loads of Pecorino Romano PDO. The resulting dish, topped with more Pecorino Romano PDO, is fragrant and delicious—if it weren't so elegant, we might even call it the ultimate comfort food.
INGREDIENTS
1 cup risotto rice
1 cup heavy cream 
¼ cup english peas
¼ cup pork belly
½ cup shaved Pecorino Romano PDO
3 cups chicken stock
½ cup seared mixed mushrooms 
3 tablespoons unsalted butter
¼ cup white wine
METHOD
To a medium pot set over medium-high heat, add olive oil and rice. Sauté the rice in the olive oil until it's lightly toasted. To this, add the onion and mushrooms. Cook this mixture down until the onion is translucent and the mushrooms are tender, about 4 minutes. Pull the pan away from the heat (to avoid flare up) and add the wine. Replace over the heat and cook for two more minutes or until the wine is almost all evaporated or absorbed. Add the heavy cream and 2 tablespoons of butter. Cook for about 3 minutes, then add the stock. Immediately reduce the heat to simmer, and cook the rice for about 15 minutes, adding more stock as needed. Cook until the rice is al dente.
While the rice is cooking, place a medium pan over medium-high heat. To this, add the pork belly or pancetta and sear until the pork is golden brown (about 8 minutes). Set aside.
When the risotto is al dente, add the Pecorino Romano PDO, peas, pork, and 1 tablespoon of unsalted butter. Stir this mixture for 5 minutes, adding more stock as needed. Season with salt and pepper to taste. To serve, garnish with grated Pecorino Romano PDO.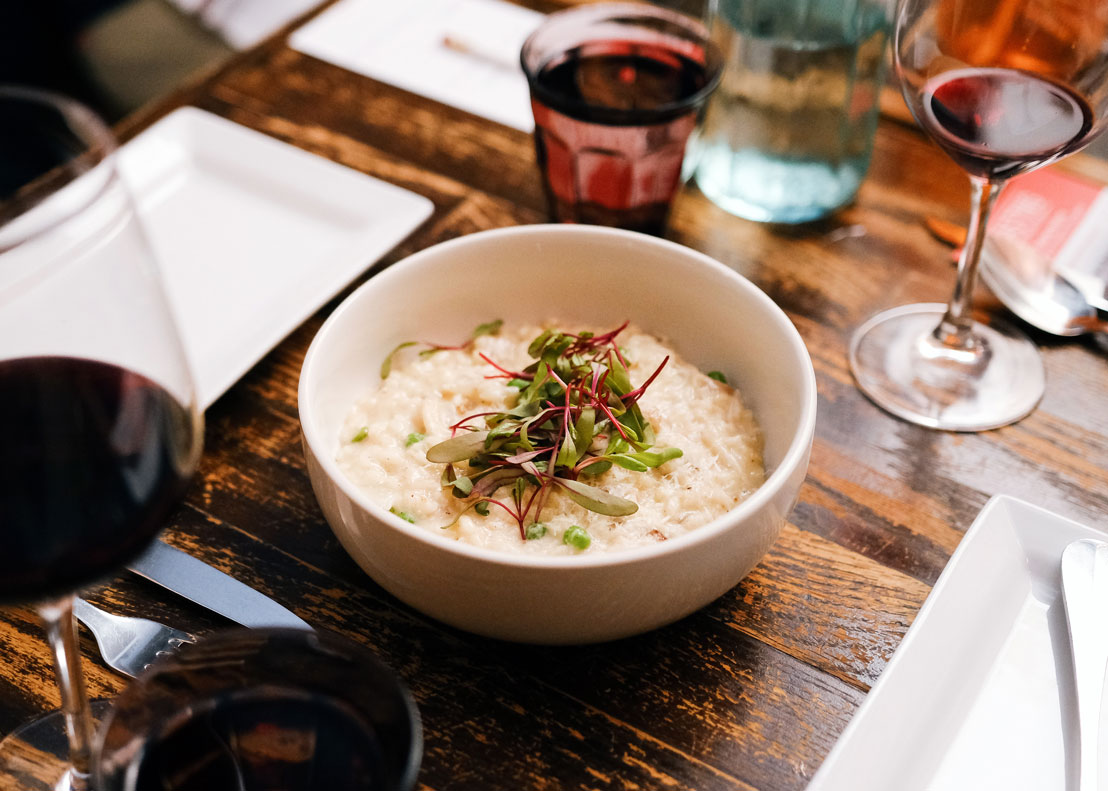 ---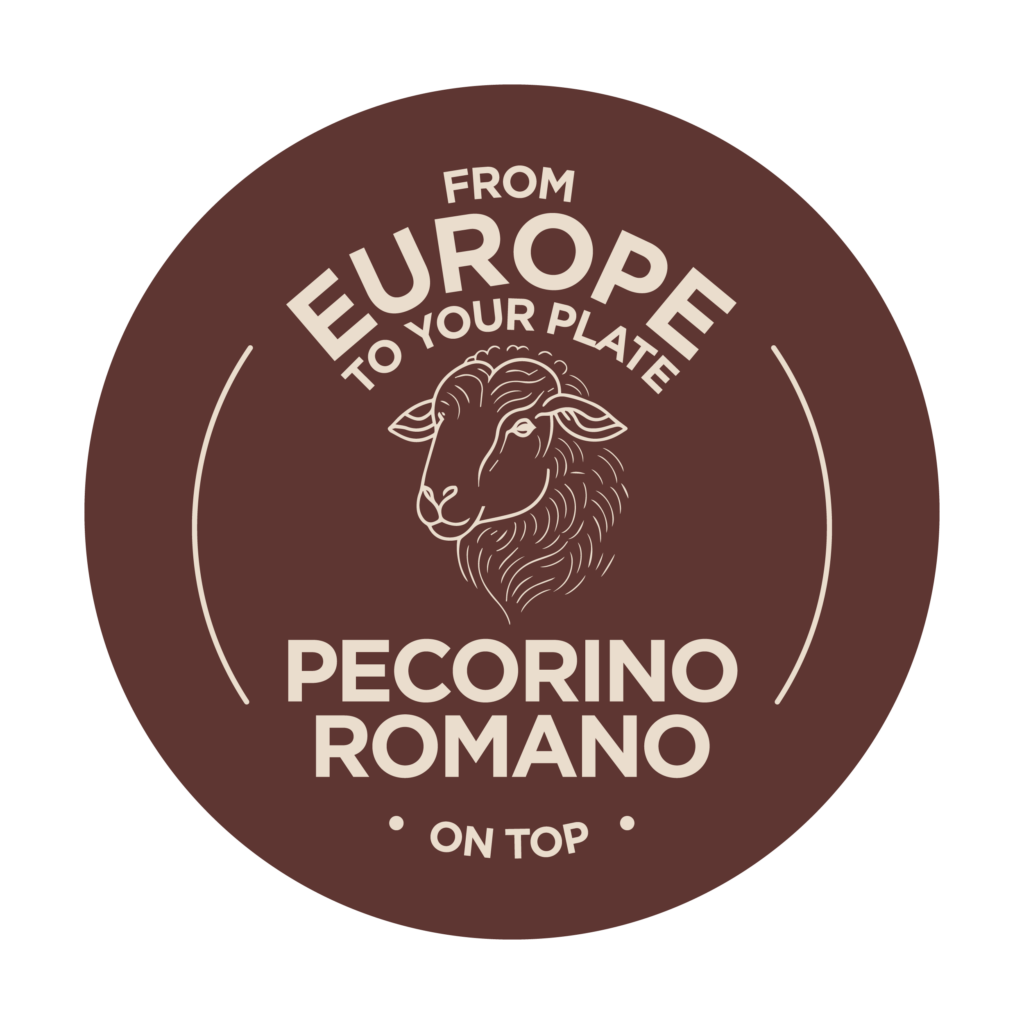 Funded by the European Union. Views and opinions expressed are however those of the author(s) only and do not necessarily reflect those of the European Union or of the granting authority. Neither the European Union nor the granting authority can be held responsible for them.