When it comes to plant-based eating in America, kelp often seems to get overlooked. Courtney Boyd Myers, cofounder of the Brooklyn-based mission-driven packaged food company AKUA, is working to change that.
"I just thought, 'How do I get more Americans eating this virtuous sea vegetable?'" Boyd Myers says. "And what's more American than burgers and jerky and sausages and crab cakes, and so that's what we're focused on is really giving people better options."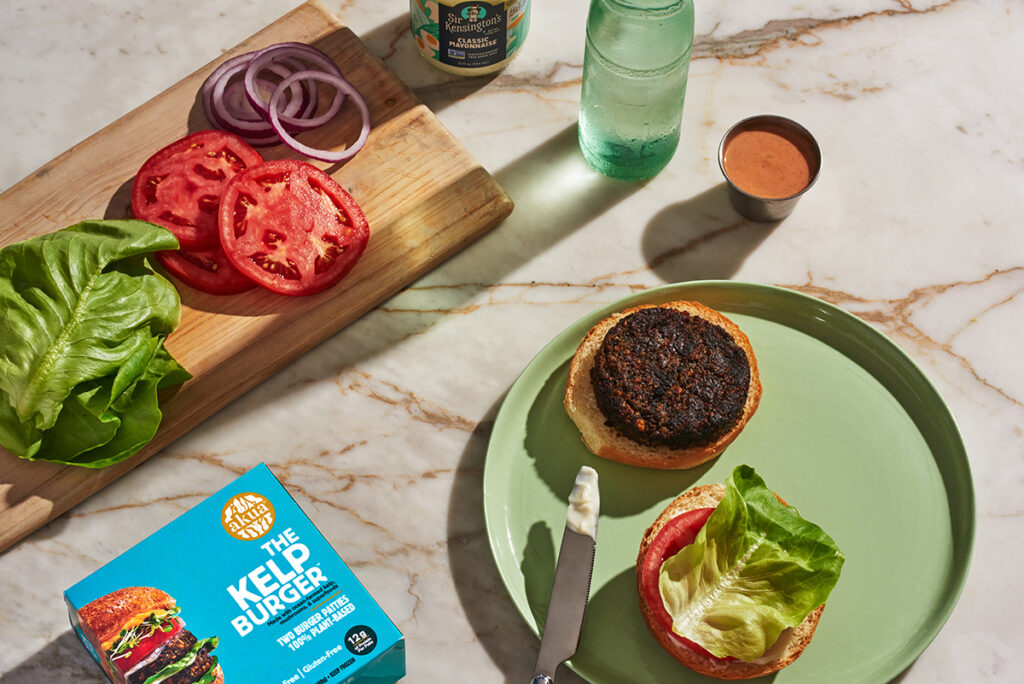 A serial entrepreneur and investor, Boyd Myers worked in tech, media and marketing before ultimately founding AKUA in 2017. But…why kelp? Boyd Myers is passionate about the environment, and when a friend took her to a kelp farm in New Haven, Conn., back in 2016, Boyd Myers saw its potential.
For one, kelp is an environmentally sound food. It's actually what's known as a "zero-input" food, meaning it doesn't need the traditional elements other plants and animals need in order for it to grow, such as freshwater and dry land.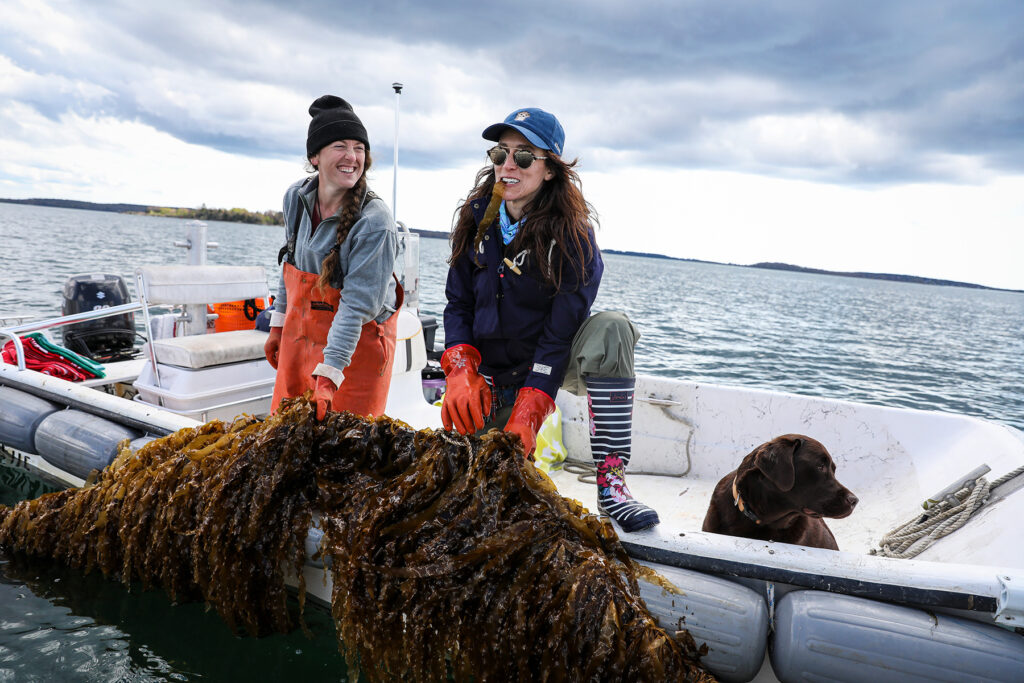 "They're sea vegetables. They take in energy from the sun via photosynthesis, and they're converting carbon into oxygen as they grow. So they have this incredible de-acidification effect in the oceans. Further, if you think about all the food that you and I have had today, almost all of it required some form of dry land or freshwater to make. Kelp grows without both of those. It grows abundantly without both of those. So, it's a really kind of a future-proofed food in the context of climate change."
Because kelp takes in carbon dioxide, kelp farms have been shown to improve ocean health. Running Tide, a startup out of Maine, is even implementing kelp microforests for the sole purpose of absorbing the carbon polluting our oceans. This is because kelp is regenerative, not merely sustainable.
"Sustainable would be sustaining a system. Regenerative is actually healing that system," Boyd Myers says. "And so when you think about the kelp in the water, we're not just sustaining a system. But by planting that kelp underwater, it's like planting a rainforest under the sea. We're actually improving the water quality. And what that looks like is we actually are testing things like lower nitrogen levels, lower carbon CO2 levels, higher oxygen levels, shellfish have thicker shells in the areas around our kelp farms, species of fish that have been gone for decades are returning."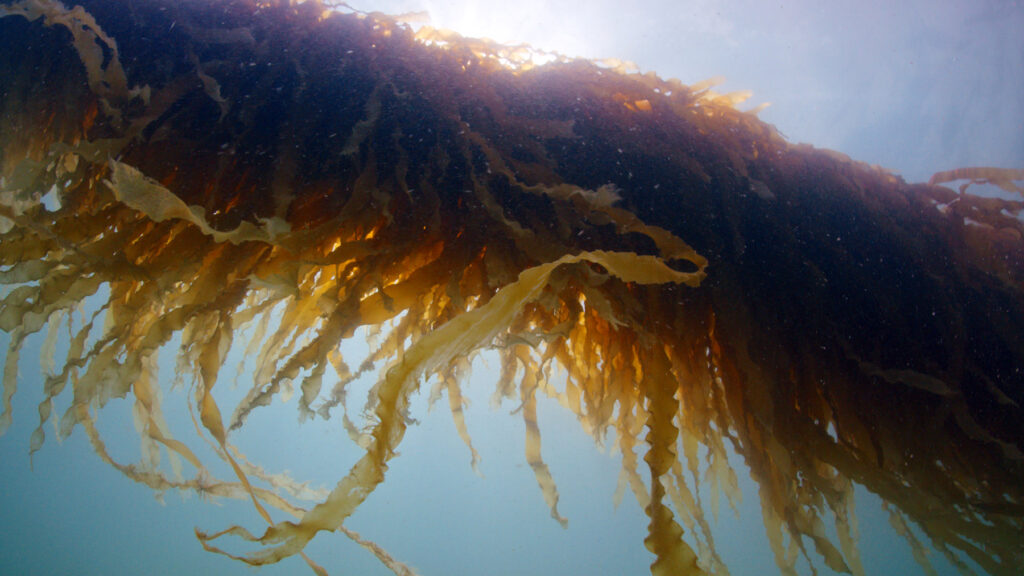 Clearly, kelp is great for the oceans and the environment, but you'll also be glad to know it's good for you, too. Kelp is packed with vitamins and minerals like folate, iron, iodine, calcium, magnesium and vitamin A, just to name a few.
"You're really looking at a micronutrient powerhouse," Boyd Myers says. "We don't have a lot of like calories or protein in the kelp. It's really about those vitamins and the minerals. Particularly iodine is a really important one to shout out. So a lot of people are iodine deficient, have been for hundreds of years, which is why the government started putting iodine in salt."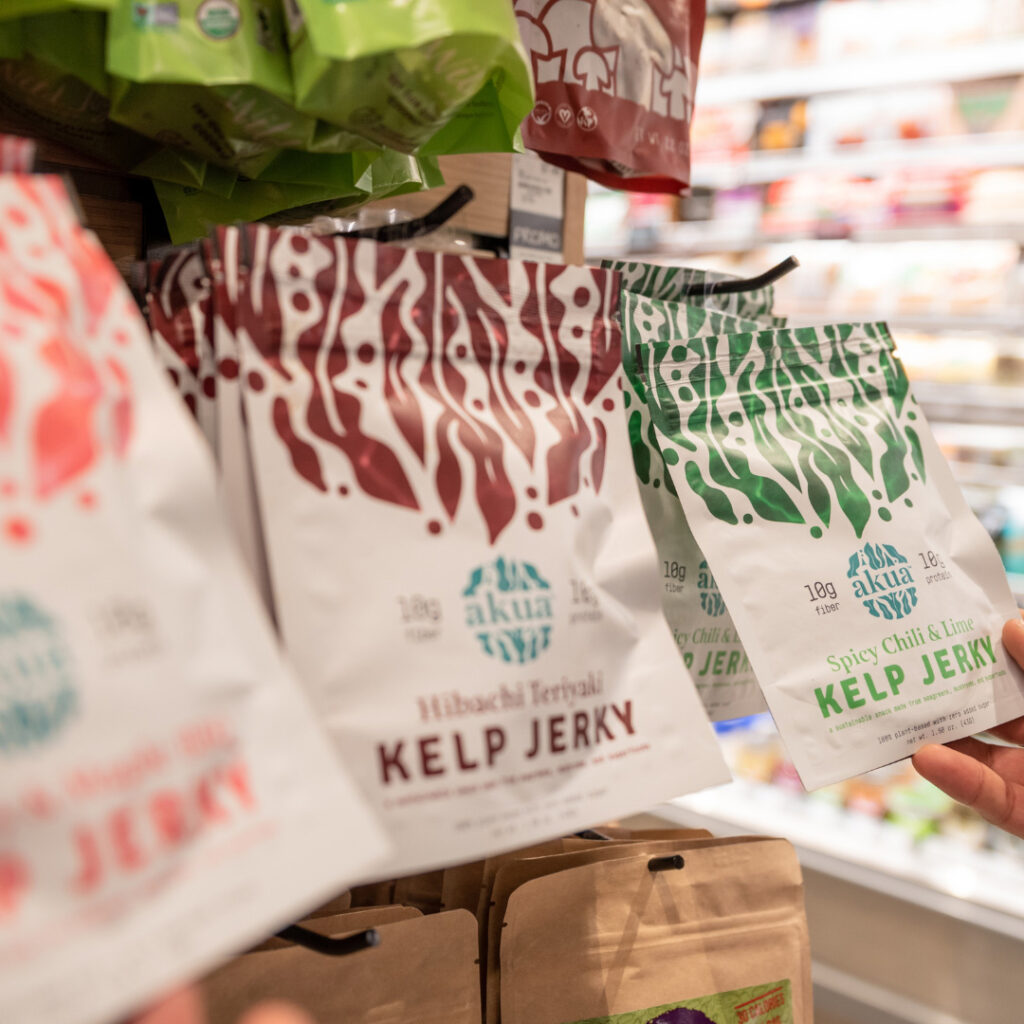 Lucky for us, kelp also happens to be pretty tasty—which is where AKUA comes in. Sourcing its kelp from a female-owned farm in Maine, known as the Maine Kelp Ladies on Instagram, Boyd Myers describes the flavor of kelp as "very oceany. It's got a very chewy, snappy texture to it. It's got like a briny, umami taste." AKUA takes that and turns it into frozen burger patties, "ground meat," jerky in flavors like spicy chili + lime and hibachi teriyaki and their new crab cakes.
If you need somewhere to start, try the burgers. Being about 30 percent kelp, according to Boyd Myers, the burgers are also made with mushrooms, beans, chickpeas, fresh tomatoes, peas and extra virgin olive oil, so the flavor is a comforting way to sink your teeth into kelp.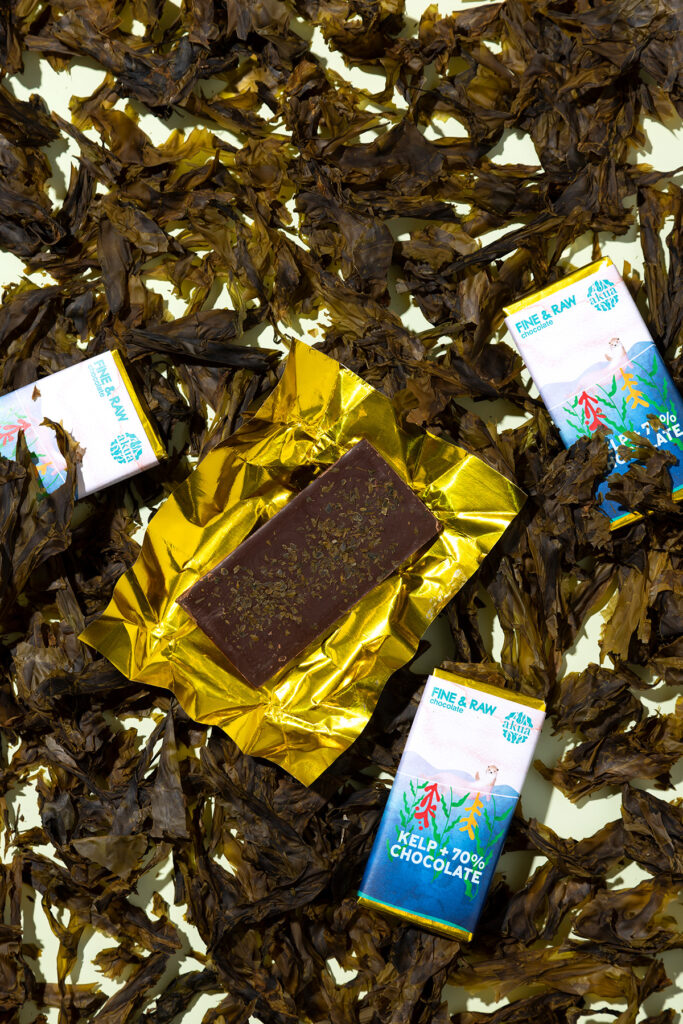 AKUA has also teamed up with Fine & Raw, a Brooklyn-based handmade chocolate company, to create a limited-run kelp chocolate bar that will be available throughout May. The kelp will be chopped up in the bar and visible on the back (as seen above).
"Kelp and chocolate actually go really, really well together," Boyd Myers says. "It's going to just add a little bit of like a salty, briny taste, which sea salt and chocolate go so well together, so it'll be a similar vibe."
And off kelp goes to save the food-loving world—one burger, chocolate bar and crab cake at a time.
Feature photo courtesy of AKUA.