In a small bar rental on the Lower East Side, you might walk past and see a man tending a bar with a little fountain. The silver fountain with a distinctive circle of masking tape at the top adorned with Sharpie-drawn smiley faces is filled with cold water. It has four taps coming out of it. If you linger, you might see the man put a glass under each faucet. You'd notice the glasses all have a little paddle-like slotted spoon on top of them, holding sugar cubes that dissolve more with each drop the faucet administers. And slowly, the sugar cube disintegrates and that clear, earthy greenish liqueur that was in the glass before has transformed into a cloudy liquid. The man turns the taps off and uses the spoons from the top to mix the liquid up before handing them to the four guests seated in front of him at the bar. This is it. The ritual is complete.
This is not a speakeasy, no. It's not really a bar at all, actually. Well, not a traditional one, at least. It's a communal gathering spot, and it is slowly becoming one of the hottest reservations in town. This is Bedroom 6.
Started in L.A. by Rhys Osborne, Bedroom 6 began with a vintage absinthe fountain. Rhys, a 21-year-old entrepreneurship and design student at USC at the time, wanted a more intentional experience than drinking at a college bar or frat party allowed for. So one night, Rhys' roommates were having a party at their house, when he came home with a bottle of absinthe—a spirit he'd been obsessed with since visiting Barcelona when he was 18. His friends wanted to try this bottle, so Rhys went up the stairs to get it.
"As I was going upstairs to get my fountain, I had this very visceral moment on the staircase as I was headed up to my room to collect it where I was like, 'You know what, screw this. What if I just brought people in two at a time and have them try this in my space?'" Rhys says. "I had previously been [studying] interior design and architecture, so my whole room was kind of set up in this very vintage style, it was very transformational, and I wanted to play different music, etc. So that's how it started was really just as a joke for my friends, bringing them in two at a time and just like doing that exact ritual," which you can now participate in at Bedroom 6. Oh and the name? That was the number on Rhys' bedroom in this house.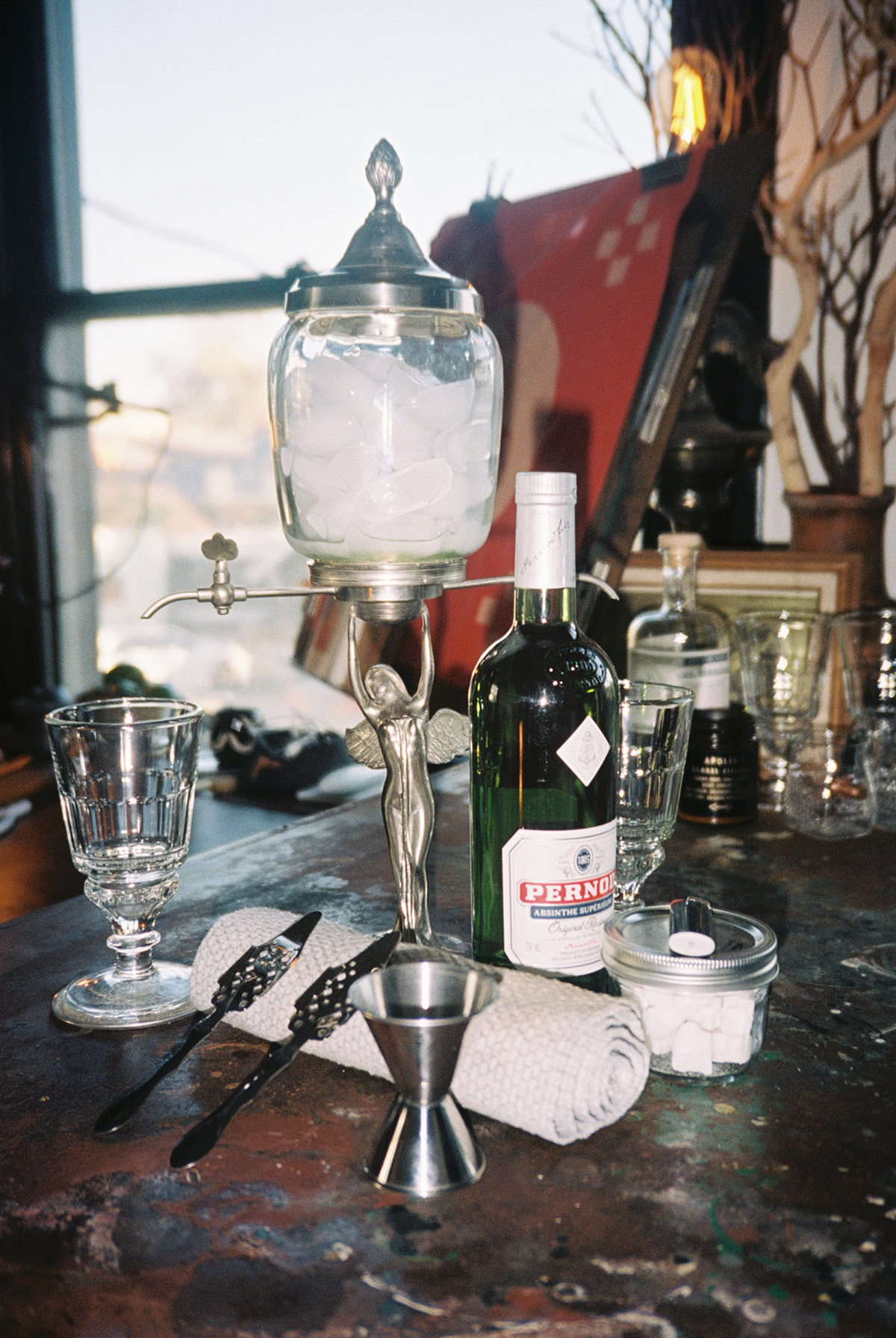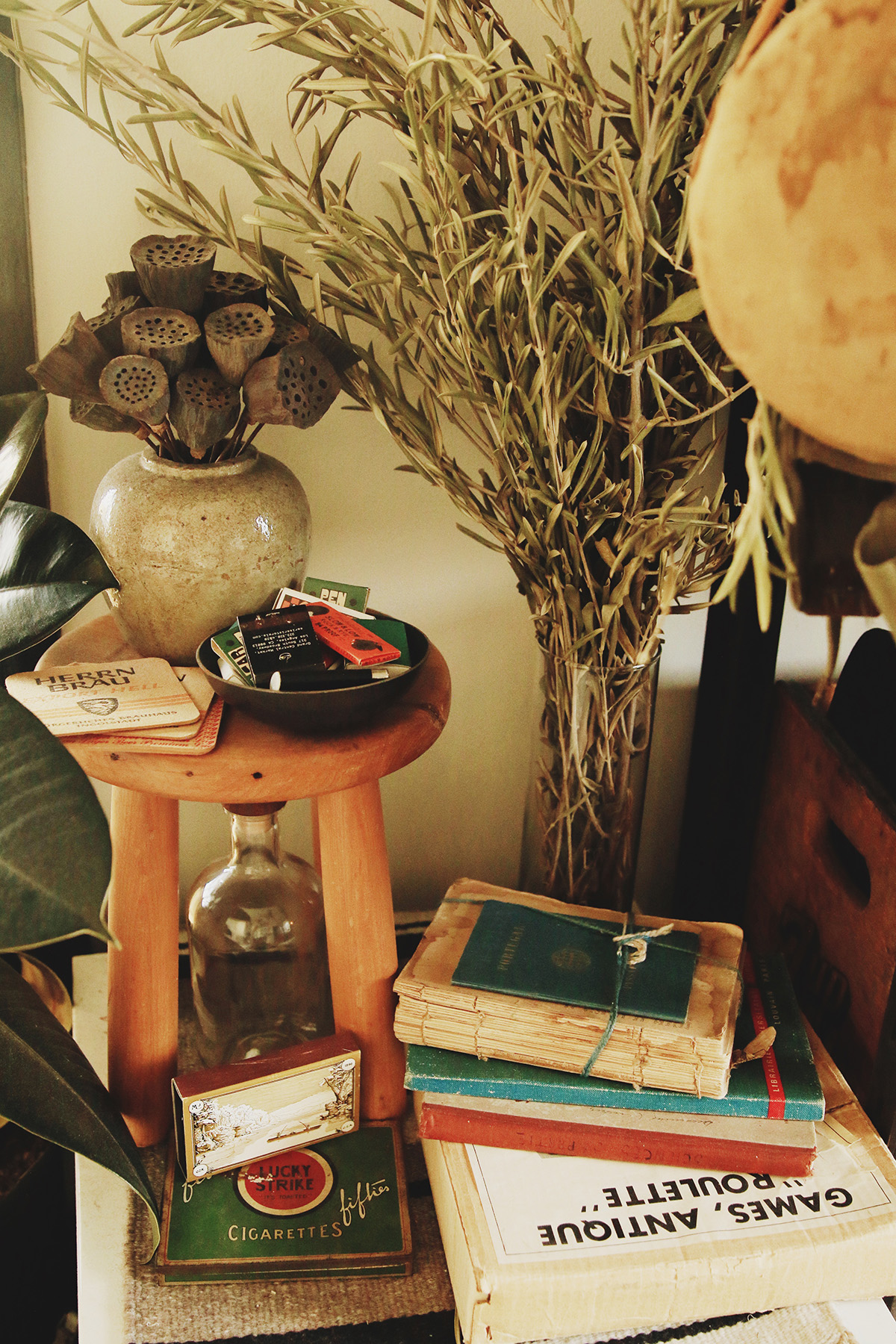 But you can't just drop by Bedroom 6. Scoring a seat at Bedroom 6 starts on Instagram. You request to follow either their New York City or L.A. account (or both) and then, you wait. You wait until your request is accepted. After clearing the waitlist, Bedroom 6 will announce on Instagram when the next pop-up is. To snag your spot, you DM them and tell them what time you want to come and how many. They'll send you a message with details. You'll Venmo them $66 (an all-inclusive fee), and your reservation will be complete. The day of, they'll send you a DM with a liability waiver to sign and the location.
Upon arriving at the secret location, you'll wait outside until a very cool, very friendly hostess sees you inside. You'll sit down on a stool at the tea candle-lit bar, and Griffin Osborne (Rhys' brother) will begin the experience. After introducing himself, he'll start by placing a bowl of sugar cubes in front of you. Everyone will select a cube and place it on top of the slotted spoons hovering above the absinthe glasses. Then Griffin will pour a shot of St. George Absinthe Verte over the sugar cubes and through the spoons. He'll then light the sugar cube on fire before moving the glasses under the absinthe fountain's four taps, where water will slowly drip into the glass.
Meanwhile, Griffin will craft you a shot that tastes like the best espresso martini you've ever had, using Mr. Black coffee liqueur mixed with a little water and a little lemon to make the coffee pop, he says. He'll serve them to you in mismatched shot glasses and recommend you sip it. And he's right. You'll want to savor every crisp, cold, creamy, rich sip of this.
By the time you arrive at the end of your shot glass, the absinthe will be ready. Griffin will hand each person a glass of absinthe, and you'll drink it in. First you'll get strong notes of black licorice, but that is tamed by the mellow notes of fennel and tarragon. What you're left with is an herbal drink perfect for sipping and the intimate experience of sitting at a bar and being served without having ever ordered anything.
The whole experience is about 20 minutes. After such time, you'll be escorted to the back of the room, which is dimly lit and filled with tables outfitted for coloring, along with bowls of popcorn, a sparse drinks menu and a bowl full of prompts to discuss with your newfound friends. And the likelihood is, you'll meet some very interesting people. On this particular night, actress AnnaSophia Robb was in attendance, as well as an editor from Bon Appétit.
Bedroom 6 offers a unique, artisanal drinking experience that fosters much-needed social interaction. But the only way to experience it is to get on the waitlist. So head to @bedroom6nyc on Instagram to start your journey.
Photos courtesy of Rhys Osborne.
RELATED: IYKYK: The Tropical Japanese Cocktail Bar Hidden in Greenpoint