When you hear the phrase "super potato," what are you envisioning? A magnificently prepared spud, perhaps? What you're likely not envisioning is a luxury utility-wear line created by an acclaimed chef, but that's exactly what Super Potato is.
Started by Jean-Paul Lourdes, the new executive chef of The Standard, High Line, Super Potato has just launched its very first garment: a simple, stylish apron, designed for chefs and people who love to cook. Prior to becoming a chef (and cooking in renowned kitchens all over the world), Lourdes dabbled in perfume design. Given the eclecticism of his career thus far, it's not a stretch that Lourdes would enter the fashion world through a culinary lens. 
Edible Manhattan recently caught up with Lourdes to discuss his new post overseeing the culinary program for the entire The Standard, High Line property, Super Potato and how design influences his food.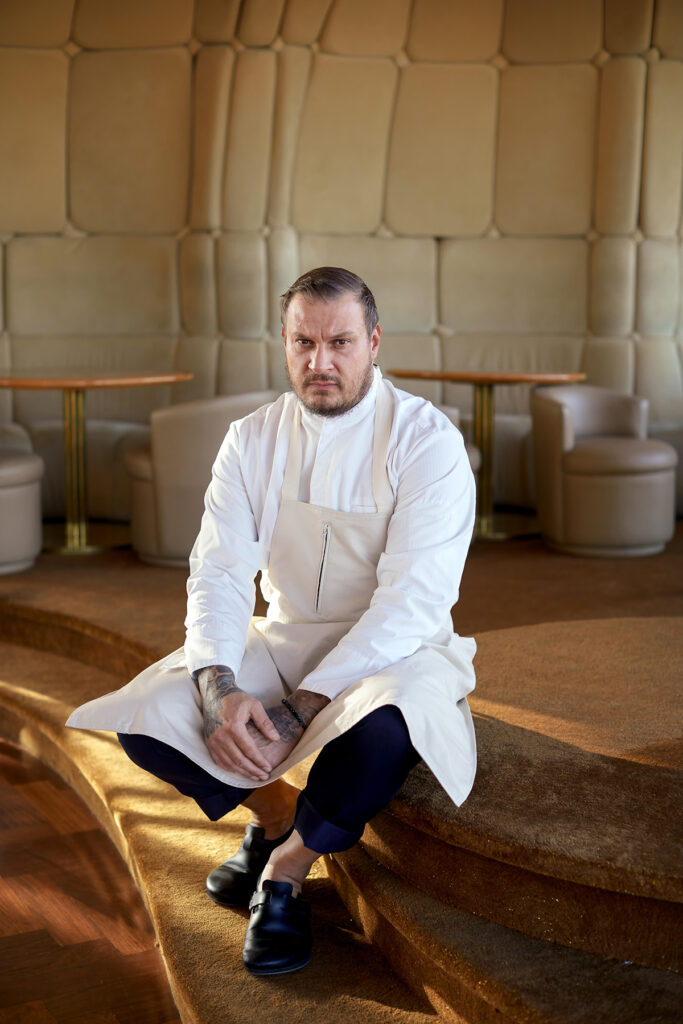 Q: First, let's talk about your new post as executive chef at The Standard, High Line. How has being their new executive chef been for you so far?
A: This is a very exciting role, and one in which I am consistently challenged. This property has great energy and is always buzzing with excitement.
What excites you most?
I'm thrilled with the opportunity to cook in New York City. I love this city! It's an amazing platform at the center of the world stage. While I've lived here before, my previous work was behind the scenes doing R&D for Stephen Starr. My role at The Standard, High Line is completely different.
How has your background in perfume design influenced who you are as a chef?
Creating perfume is all about layers. As a perfume is worn throughout the day, there are small changes to the notes—an evolution of the scent as time goes on. I believe this is also crucial in creating dishes. If a recipe isn't layered, or doesn't have multiple sensory elements, you're really missing out on a lot of the important qualities that make for an outstanding dish.
I know you also just kicked off your new utility-wear line for chefs, Super Potato, with the apron. How is this apron different from other aprons currently available?
My vision for the apron was never to be different than anyone else. I really just wanted to make a very high-quality garment that I could personally stand behind. The fabric is imported from a very small vendor just outside of Tokyo that uses vintage looms, and all of the pieces are handwoven. I intentionally included very simple but refined hardware details and created a thoughtful silhouette to ensure the garment would stand the test of time, as well as typical wear and tear in the kitchen. While the apron is double-sided to provide strength at straps and tension points, the inner layer is cut away around the body for cooling. This feature also ensures that no bulk is added to the physique.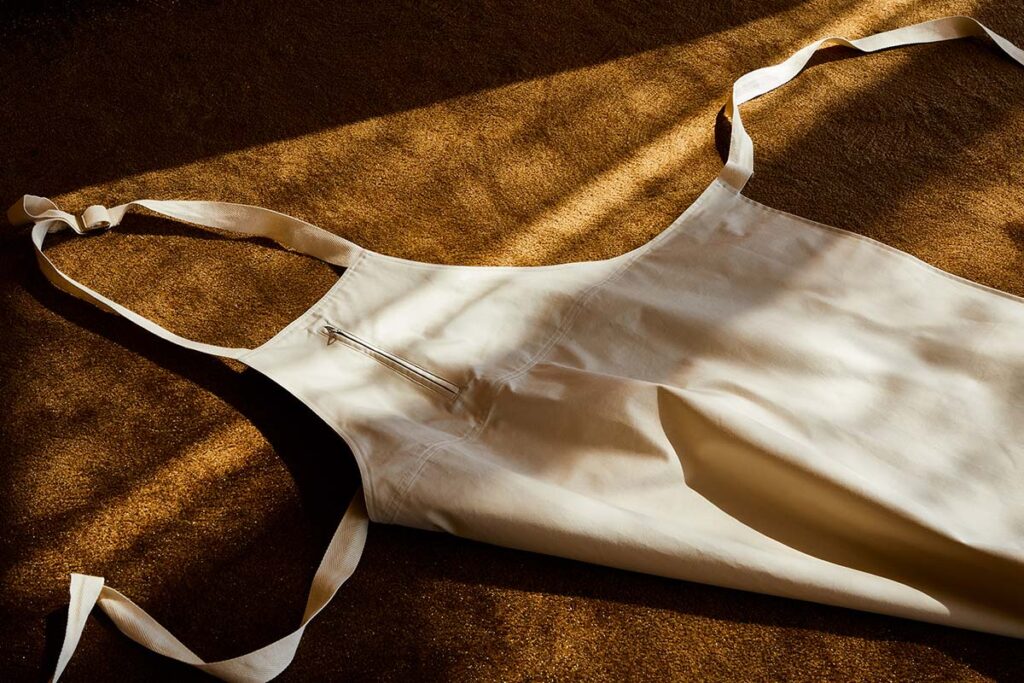 What made you want to start a garment line for chefs? And what can people expect?
I noticed a real need for an apron that was made of high-quality materials but was also stripped of unnecessary clutter. Heavy straps and clunky hardware can really weigh down a garment and become an uncomfortable distraction that disrupts a chef's mobility in the kitchen. I couldn't find an apron that was high-quality, looked great, and was also functional and comfortable to wear. So I created one.
How did sustainability play into your thinking when you were creating this line?
There were many challenges in creating this product during the pandemic. Sustainability has always been important to me, and it was one element that I knew I wanted to incorporate. Understanding the massive amount of waste produced by the garment industry—in sample production and packaging especially—I never created a physical sample of this product. I looked at the fabric and tested it in small quantities in a kitchen environment and just believed in the design.
RELATED: Where to Eat the Classic Desserts You See on 'The Great British Bake-Off'
I love that when you purchase the apron, it comes with seasonal seeds! What kind of seeds can buyers expect to see?
The seeds included with each order will change based on what's in season. I always want to keep the brand fun and unique, so offering a seed that people can plant within the burlap potato sack packaging is a nod to our eco-friendly approach, and it's also just a whimsical touch that I hope people will have fun with. I also provide recipes with each order that customers can use once their planted seeds have grown. Right now, those who order the apron by Super Potato are receiving Jibai Shimoshirazu cucumber seeds.
How does fashion influence your food? And vice versa: how does your food influence Super Potato?
I think composition is very important. To me, the way clothing is meant to look on a body is equally as important as the way food is articulated on a plate. And, similarly, a great dish starts with a few simple ingredients that we elevate to an art form. I've combined a few really exceptional high-quality materials to turn a simple apron into a special piece for professional chefs and people who just love to cook.
Feature photo courtesy of Super Potato.