Ayesha Abdullah owns and operates Accra, a restaurant business started by her father in their apartment more than 35 years ago. He was an African immigrant, her mother a Harlem native. They both loved to cook, putting out dishes that blended their cultural food roots. Growing up, Abdullah was always involved "No matter what I did, I never left the business."
In 2020, Abdullah and other family members were running two Accra locations, in Harlem and the Bronx, when the Covid pandemic overwhelmed New York. The family shifted gears and kept the restaurants, providing take-out and delivery.
In July 2021, Abdullah was excited to reopen to guests. Covid restrictions were finally lifting: "Everything was beautiful. We painted; we set up a whole system … for taking customers' temperatures and distancing." Then everything fell apart with a 4 am. phone call. The gas had been shut off to Accra's Harlem restaurant because of a leak in an upstairs unit. There was no choice but to shut down.
Accra fans, however, inspired the family to get creative. Abdullah describes a "crazy response from customers in Harlem; we want you back!" Knowing the Bronx location was too small to handle all the cooking ("It would have brought everything down"), a brother suggested a commercial kitchen. Abdullah was delighted to discover the newly-opened e.terra Kitchen nearby.
The family began cooking their entire 24-item menu at e.terra. Dishes are then transported to the restaurant, serving customers from (now electric) heating tables. Abdullah is grateful and enthusiastic. "That kitchen is awesome. I love it! I've never been overcrowded, and sometimes we have up to six people working. They customized a storage space for us and our ingredients."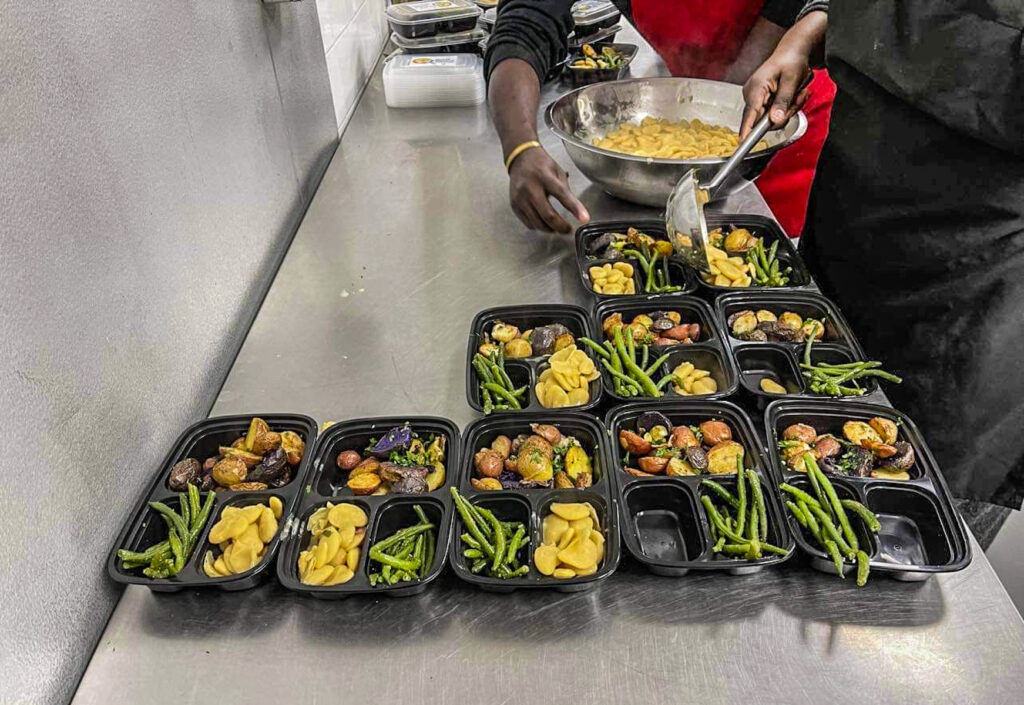 Abdullah is ardently optimistic. "Whenever you are in something, you need to find the positives." She regards the gas leak as "a blessing in disguise" as it brought her to e.terra with unexpected membership perks. She values opportunities to meet other people in the field, learning how to use new equipment, improving kitchen organization and time management, and working better with employees overall. "These are all things I can take back to my own kitchen!"
Although she doesn't yet know when that may happen, Abdullah says, "I have to see light at the end of the tunnel, and e. terra has shown me other options." She only looks forward. "You have no choice [except to find a solution] because this is your livelihood. I love this business and the people."
Photos courtesy of Accra.