The first time I picked up a matchbook was at Bar Primi on the Bowery. I needed an occasion to wear a new dress and I decided that reading Eve Babitz while I ate dinner at the bar alone on a Friday night would suit my mysterious ingénue narrative. Walking out the door with a stomach full of Paloma and pesto, I spotted a bowl of matchbooks.
Restaurant matchbooks have been around for more than a century, but post-COVID Manhattanites obsessed with dining—combined with a younger generation looking for nostalgic relics to balance their chronically online lives—have brought these mid-century relics back. Matchbooks are now considered a vital element to the overall branding of a restaurant.
"Everything is digital now," says Justin Sievers, managing partner of Bar Primi. "It's nice to have something that's a little more real and tactile for people."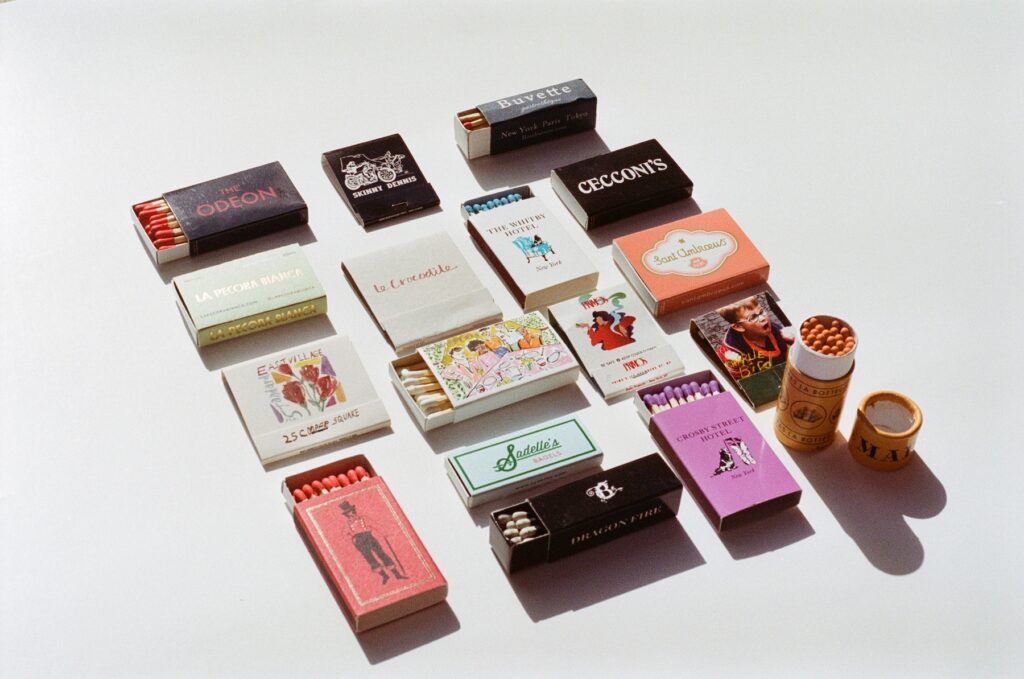 For Sievers, a matchbook is a lasting way to connect with patrons. Opening Bar Primi's matchbook reveals a phrase: "A scula past'!" It roughly translates to "The pasta is ready," urging matchbook holders back. "Maybe you're not supposed to play with matches," says Sievers, "but it's always fun to have the memory of where you got them."
Bar Primi is just the tip of the matchbook-collecting-iceberg in Manhattan. Another favorite among New York City collectors is found at Jack's Wife Freda. Known for its long weekend brunch lines, diners who are able to get into the restaurant have already reached a level of exclusivity. The matchbook is their badge of triumph.
When they leave with a matchbook from Jack's Wife Freda (which reads on the back, "We're a perfect match"), Jessica Landucci, manager of the Chelsea and Williamsburg branches, believes that patrons are really "taking with them a little piece of the restaurant and the experience they had that day."
As with any collectible, there's also a competitive element. Carly Hill, a collector with nearly 100 NYC-specific matchbooks, says that looking for matchbooks is "like a fun scavenger hunt, on top of trying the new places."
Some spots like Jack's Wife Freda and Bar Primi keep theirs in bowls for patrons to grab as they please (Landucci laughs as she tells me, "people are always putting their hand in the cookie jar"). Other restaurants heighten the stakes. In places like The Odeon and Ralph Lauren's The Polo Bar, matchbooks are only available for those willing to ask. A theme of protectiveness among the matchbooks found at higher end eateries emerges in my conversations with collectors, but it's unclear why such stinginess exists if the matchbook is meant as a marketing tool. For some restaurants, perhaps the matchbook is a status symbol.
A testament to the rise of matchbook popularity is found in the popular Instagram account @matchbookdiaries. Artist Charles Ryan Clarke photographs individual matchbooks in a pop art style, pairing each photograph with an anecdote or piece of history about the restaurant featured. "I'm just a storyteller, I guess, and a photographer and artist," Clarke says, "I didn't design the matchbox, I don't cook the food, I just collect them and photograph them in a certain way and highlight stories that I find interesting." Prints of Clarke's work are available for those who want to hang their favorite matchbook on their wall. But, like at The Polo Bar, they're only available to those willing to meet the $175 price tag.
While matchbook collecting is trending, matchbooks themselves have long been a fixture in the New York City dining scene, despite former Mayor Bloomberg's 1995 smoking ban in restaurants.
"[T]he matches were not just for smokers," says Louise Fili, a mind behind design and branding strategy for New York City restaurants since the late-1980s. "They were the perfect New York souvenir: a unique collectible that delivers much more personality than a business card. As a result, the smoking ban, rather than bringing a certain death to matchbooks, ushered in a whole new appreciation and interest for them." This may be unsurprising, considering that the matches themselves typically aren't used by collectors. Design, exclusivity, and associated memories are higher on the appeal list than utility.
The resurgence of matchbooks is a representation of a new generation. The matchbook is an account of where your dollars and social time have been spent. It's a return to the analog in the digital age. It's a testament of the resilience of gastronomic New York City after a two-year hiatus. The matchbook, like New York City, is many things at once: a status symbol, a piece of art, a memory you can hold in the palm of your hand. For young Manhattanites, the trendy mementoes pair with their meals like a bottle of wine or, if you will, like a match made in heaven.
Photos courtesy of Montana Blair.