Here's the thing about supermarkets. They sport "butcher counters" with no butchers behind them, and meat cases where all but two or three of the most popular cuts have been replaced by ready-to-grill kebabs. Their instore bakeries churn out Oreo™ birthday cakes and frozen, par-baked loaves. My everyday staples, like cheese and olive oil, are considered gourmet items so they price them accordingly. And don't get me going about supermarket seafood departments—when I was pregnant, their ambient stink made me gag.
I avoid supermarkets.
Arthur Avenue—with its dense collection of honest-to-god butchers, bakers, imports sellers, fishmongers, pork stores, and latticini—is my savior. It's where I buy most of my groceries exclusive of TP and dish detergent. I have my own favorite purveyors, but there are two major butchers, two fishmongers, several bakeries, and just about everyone sells Italian imports. Each Arthur Avenue regular has their own personal shopping route. Here's mine, tailored perfectly to me, refined by years of dragging myself and my purchases up and down the street.
Not actually on Arthur Ave. (it's three blocks east on East 187th), this bustling sandwich shop makes its own mozzarella—I like it an ooch better than the milky orbs sold at the euphoniously named Casa Della Mozzarella further up 187th at the corner of Arthur. Is Joe's better than Casa? I think it is, but it's certainly debatable—maybe I prefer Joe's because of Casa's long lines, or because Casa is so cramped that, to come and go, shoppers must slide against each other far too intimately for my comfort. When I'm doing my massive Arthur Avenue schlep, Joe's is my first stop—I get fresh mozzarella for pizza (it freezes well) and massive, delicious sandwiches because, after this, I'll be too beat to cook.
A dizzyingly stocked, bustling shop that sells every type of Italian import you can imagine, all at shockingly low prices. Of course there are gallon cans of excellent olive oil (I like Edda) and cases of canned La Valle tomatoes, but there are also all manner of imported cheeses, salumi and ham—plus, olives, nuts, dried fruits, salt-packed anchovies (that sit out in the open, right on the counter), salt packed capers, dried pasta, brandied cherries, truffle peelings, dried Italian oregano on the branch, saffron, dried beans, dried porcini, tinned sardines and tuna in olive oil, bulk Callebaut chocolate, baccala—honestly, I could go on and on. They have weird things like whole imported citrons for fruit cake—basically, if you don't see it, ask. My order changes, but the invariables are Parmigiano Reggiano, pecorino Romano, prosciutto di Parma, bresaola, olive oil, Mutti passata, and imported Nutella—signified by its glass, not plastic, jar—for my daughter (it is noticeably superior to American-made). A hint for drivers: Across from Teitel on Arthur Avenue there is a street sign that reads "No Double Parking on This Side." Infer what you will.
The name is a bit of a misnomer as it is staffed by a crew of remarkably pleasant women. While they sell all sorts of Italian breads (ciabatta, focaccia, bastone, etc.), I usually walk away with a loaf or two of pane di casa—they also do a staggeringly delicious, but hard to justify, lard bread made with prosciutto ends. If you weaken, you'll find that it's impossible to not pick at this fragrant, salt-fat-carb bomb (whose lipids slowly saturate its paper bag) on your way home. If I'm feeling beneficent, I also pick up pignoli cookies and cannoli. Here, the filling that they pipe per order into shells is ricotta-forward and not sickeningly sweet. Madonia is cash only, a fact that I regularly forget, much to the ladies' amusement.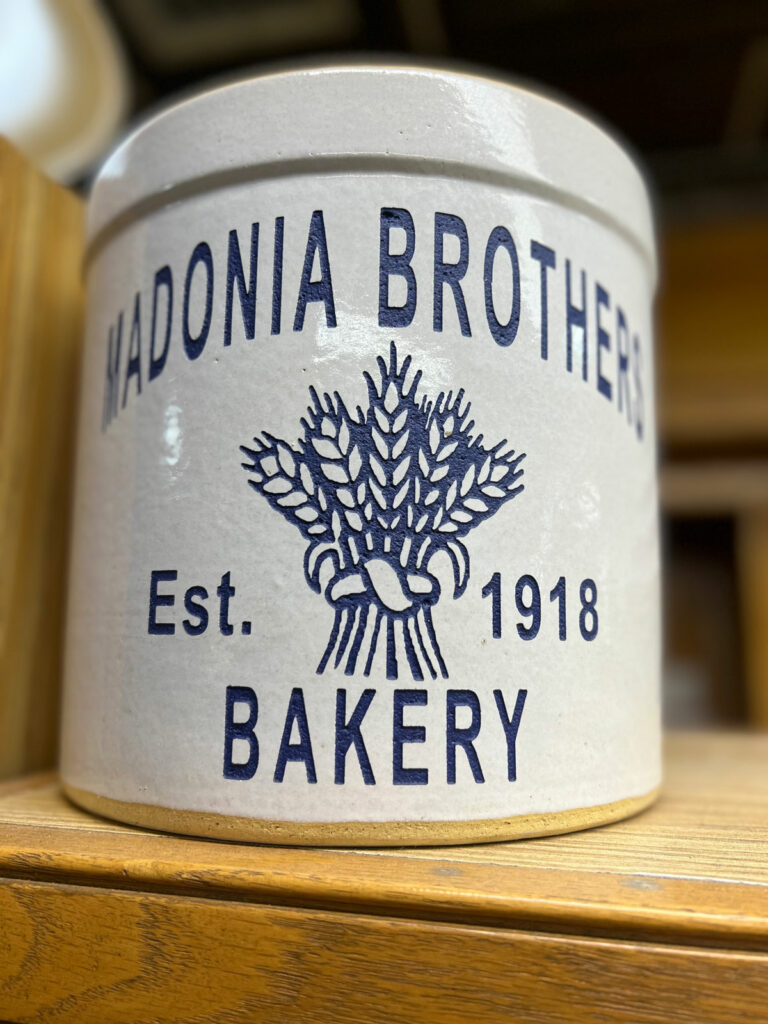 Biancardi's Meats
Its window is a bit grand guignol with disembodied heads, sucking pigs, and hanging whole lambs—and, inside, the shriek of the table saw never stops. Still, this is a real-deal, high-volume butcher that has whatever you need—ANY cut of steak, lamb, or pork—whenever you need it. Look for trotters, oxtails, kidneys, liver, rabbit, whatever. I nearly wept when I discovered they sell beef and veal stock bones; they even asked how I wanted them cut. My standing order is fat hanger steaks (which have tragically disappeared from grocery cases) and thin pounded, super tender beef cutlets for milanesas/schnitzel/scallopine.

(No website: 2350 Arthur Ave, The Bronx, NY 10458)
You might think that the oft-Instagrammed #thesausagechandelier is a gimmick, but that's not how the salami-festooned ceiling of this shop began. Instead, 48 years ago, the shop's high ceiling just made a handy place to dry the sausages that they still make in-shop. Even if you're not desperate for air-cured salumi (all of which is excellent, by the way—I love the sweet, flat soppressata), you should go in just to breathe this shop's heady smell: it's like a porky, olfactory foreshadow of heaven. While dried sausages are the showpiece, don't skip fresh sausages—especially my favorite, the coils of cheese and parsley. These, some bread, and broccoli rabe make a fine dinner.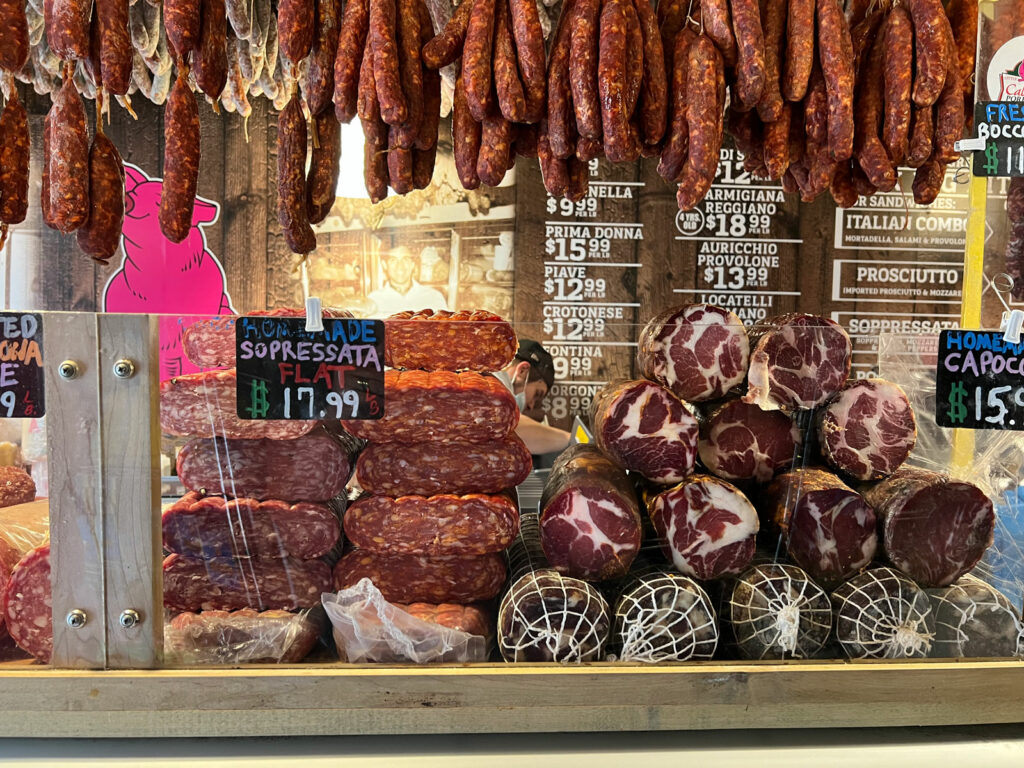 Smelling not at all like fish, this wildly clean, 80-year old fishmonger's cases are a deep sea, Captain Nemo dream. Sometimes I drop in just to see how the monkfish, octopi and cuttlefish are displayed. Expect seriously impeccable fish left unmolested for your inspection. In contrast, the beheaded, filleted seafood in your supermarket traps any fishy smell behind plastic wrap, plus, all the telltale signals of freshness (gills, eyes, and fins) have been removed. No thanks. Once you've chosen your clear-eyed, red-gilled fresh fish, Randazzo's will clean, descale, bone out, or fillet your purchase anyhow you like. The prices are pretty great, too. At this point, having made my usual shopping circuit, I'll be about ready to die. Happily! I've purchased sandwiches for dinner at Joe's, so I'll pat myself on the back a bit while I stir my Toby Cecchini negroni.