When you consider the cute honey bear jar that we all know and love (and have probably had in our pantry for years), you wouldn't be blamed for having not thought about putting a cocktail in it. Lucky for us, Sunday in Brooklyn's head bartender Brian Evans has. Here, he tells us about the inspiration behind this drink, his favorite bar programs in New York City, and he gives us the recipe for this one-of-a-kind cocktail.
How did you come up with this cocktail? What inspired you?
As the weather in New York starts to heat up, I wanted to create a cocktail that would get people excited to shed their winter layers. I immediately turned to bright flavors like pineapple and apricot, which really complement Santa Teresa 1796's interesting flavor palate. Of course, Santa Teresa 1796 is also made in Venezuela's Aragua Valley, known for its tropical weather, so this cocktail also pays homage to the rum's home.
At the base, this is essentially a more savory riff on the classic Hotel Nacional cocktail hailing from the namesake hotel in Havana, which classically called for rum, apricot, pineapple and lime.
RELATED: IYKYK: The Tropical Japanese Cocktail Bar Hidden in Greenpoint
What do you love about this cocktail? What makes it particularly special?
Along with the unexpected savory undertones from the cumin-spiked honey and dry sherry, I had always wanted to serve a cocktail in one of those cute honey bear jars as a whimsical-yet-nostalgic visual moment. It has kind of become a little mascot for our bar program.
What ingredient do you think is underrated when it comes to cocktails?
Celery and snap peas. When juiced or muddled, both vegetables add a complex layer to just about any sour-style or highball cocktail, no matter what the spirit-base you're applying.
What bar or bar program in NYC (apart from yours) excites you the most?
I find the most excitement in unique flavor experiences, simple or complex. Places in New York City like Mace, Double Chicken Please, Overstory and Manhatta all have thrillingly composed cocktails that play with unexpected and intriguing savory notes, aromatics and sleek visuals.
Honey Bear on Holiday from Sunday in Brooklyn
Recipe by Brian Evans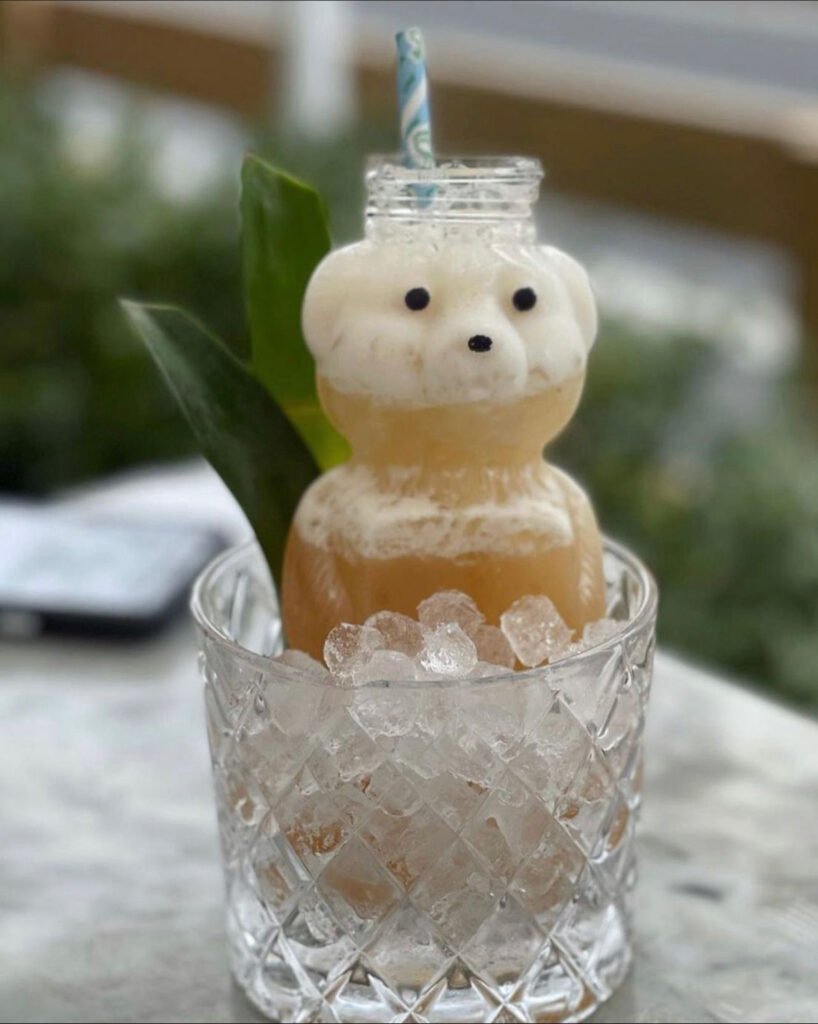 Ingredients
1 oz. Santa Teresa 1796 rum
1/2 oz. Amaro Montenegro
1/2 oz. Lustau Amontillado sherry
1/4 oz. Giffard apricot liqueur
1/2 oz. pineapple juice
1/2 oz. cumin honey*
1/2 oz. lime juice
Directions
1. Add ingredients into a shaker tin set and whip-shake with a few pellets of crushed ice, shaking until you no longer here the pellets of ice rattling around.
2. Pour contents into an empty honey bear container and pack with more crushed ice.
3. Serve the honey bear container in a rocks glass packed with more crushed ice, then garnish with a pineapple frond within the rocks glass.
*Cumin Honey
Ingredients
20g Cumin Seed
1 cup Water
1 cup Orange Blossom Honey
Directions
1. Using a small saucepan, lightly toast the cumin seeds until aromatic.
2. Then carefully pour honey and water and bring to a simmer for about 10 minutes.
3. Leave the cumin seeds infusing until the mixture reaches room temperature, then cover and refrigerate for up to one week.