Strawberry Shortcake
By Rita Sodi & Jody Williams of Via Carota & Commerce Inn
Yields 9 servings
For the Biscuits
180g butter, diced and cold
250g cream, plus more for brushing
In the bowl of a stand mixer, combine everything but the cream and raw sugar. Using the paddle attachment, mix on low-medium speed until the butter is the size of peas. Add cream all at once and mix on low speed until there are no crumbs at the bottom of bowl. Roll dough out on a lightly floured countertop to a thickness of 1 inch and cut into 9 squares. Freeze biscuits for 15 minutes while preheating oven to 350°F. Remove from freezer and brush tops with cream and sprinkle with raw sugar. Bake for 15 minutes, or until golden brown. 
For the Whipped Crème Fraîche
Whip together until it holds soft peaks. Keep refrigerated.
For the Macerated Strawberries
Hull and cut strawberries into halves, or quarters if they are big. Toss with sugar and let sit for at least 20–30 minutes before serving.
To Serve
Split biscuits in half and spoon half of strawberries with the juices onto the lower halves. Replace biscuit tops and top with the rest of the strawberries and spoon on whipped crème fraîche.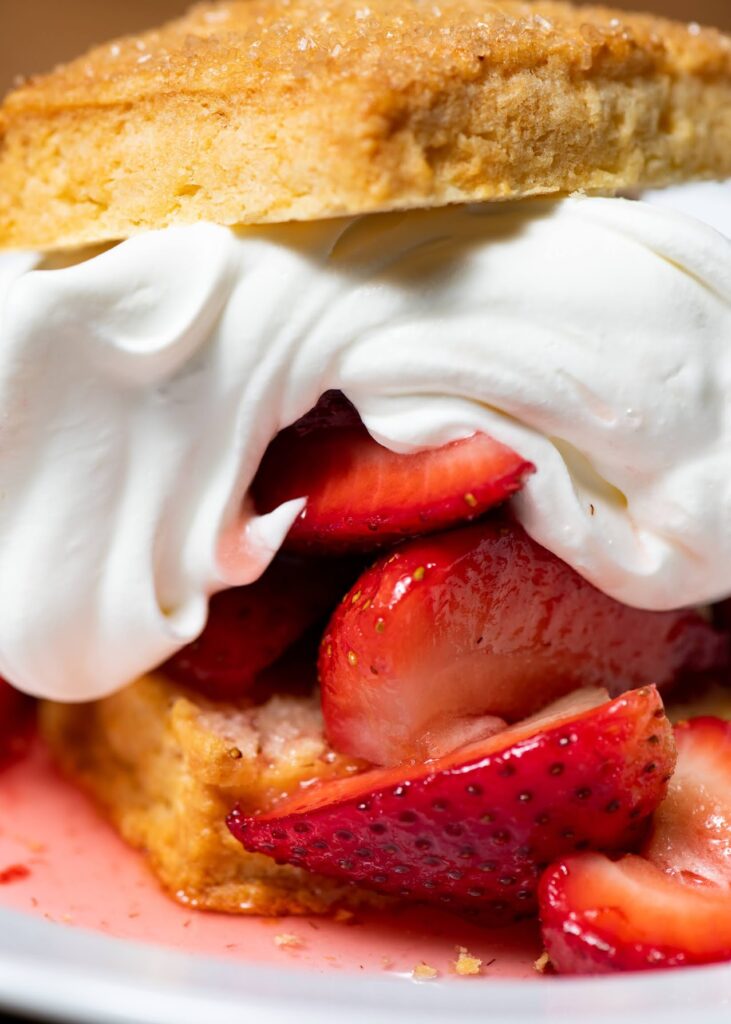 RELATED: How to Make Eric Adjepong's Malva Pudding With Cognac Glaze
Feature photo by Ruvan Wijesooriya.