It likely didn't occur to lauded mycologist Paul Stamets, during his 2008 TED Talk entitled "Six Ways Mushrooms Can Save the World," that the enduring appeal of fungi would extend beyond science, food, and hallucinogenics to seep into the fabric of our wardrobes. But fast forward to today, when his name is swiftly gaining notoriety off the back of Netflix's documentary Fantastic Fungi, and a number of weighty fashion houses—Stella McCartney, Balenciaga, and Alexander McQueen—have turned their platforms over to exactly that: clothing and accessories inspired by, or crafted from, mycelium.
Fungi Inspired Fashion
After spotting a singular mushroom growing through a crack in her studio, Sarah Burton, Alexander McQueen's creative director, was drawn into Stamets's world and a beautiful Fall '22 collection ensued. Knits woven with mushroom motifs, pantsuits with slits at the knee as if something might sprout from beneath, neon dresses with folds unfurling around shoulders, and necklines like chanterelles reaching for the sun.
"Mycelium connects the rooftop of the tallest skyscraper to plants, the ground, animals, and human beings," Burton says in an introduction to the collection. "It has the most profound, interconnecting power, relaying messages through a magical underground structure, allowing trees to reach out to each other when either they, or their young, need help." The collection—presented in a Brooklyn warehouse (the London-based brand's first show in New York for over 20 years)—was both a visual ode to the beauty of nature and a powerful metaphor for community. A wistful nod to human togetherness before the disruption of lockdowns.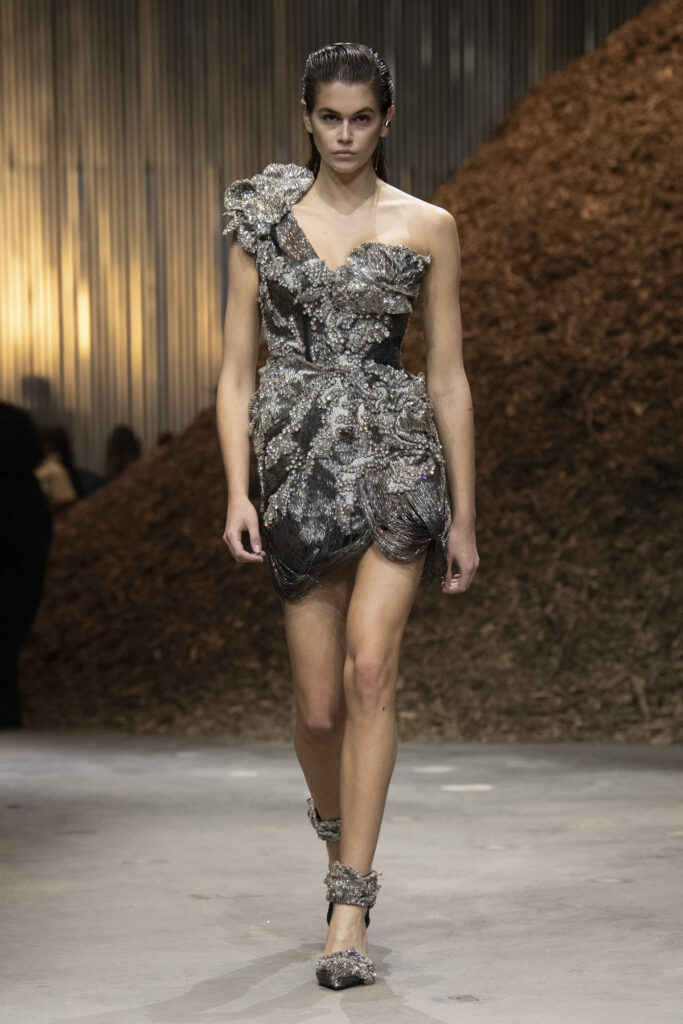 RELATED: De Gustibus: Where Food, Art and Era Meet
Meanwhile, during the height of the pandemic in spring 2021, longtime sustainability advocate Stella McCartney (who is also an admirer of Stamets's work), unveiled a delightful peek at the future of leather: a bustier top and utility pants crafted from Mylo—a mycelium hide created with materials innovation company Bolt Threads. Soft, pliable, and indistinguishable from the real thing, the garments offered a glimpse into a leather-free closet where style isn't compromised by cruelty, and fashion's environmental impact is taken seriously.
The Science Behind the Seams
"The mushrooms are grown in labs," McCartney explains on her website, "so they use no water and barely any electricity." High production costs meant these prototype garments, like most mycelium clothing and accessories, were not yet available for sale. But one year on, that's starting to change. As part of the cool elegance on display at McCartney's mushroom-themed Spring '22 collection—organdy dresses printed with fungi illustrations and fringed pieces alluding to mycelial filaments—the lifelong vegan showcased a buzzy new handbag release: a limited-edition Frayme Mylo, which was made available for purchase on July 1.
A slew of designers have proven mycelium worthy of the heights of fashion. Hermès is also working on a mycelium leather Victoria bag. Balenciaga launched EPHEA, a new mycelium-based material, as part of its Winter '22 collection. Eben Bayer, co-founder of New York–based materials technology company Ecovative Design, is set on widening its aperture. "The pieces coming out at the moment are either sitting behind glass cases or are very expensive," he says. "What we're doing with the Fashion for Good Cooperative is addressing the needs of everyday people." To that end, numerous mid-priced designers (including Reformation and Pangaia) will collaborate with Bayer's team to develop approachably priced mycelium-based pieces over the next couple of years.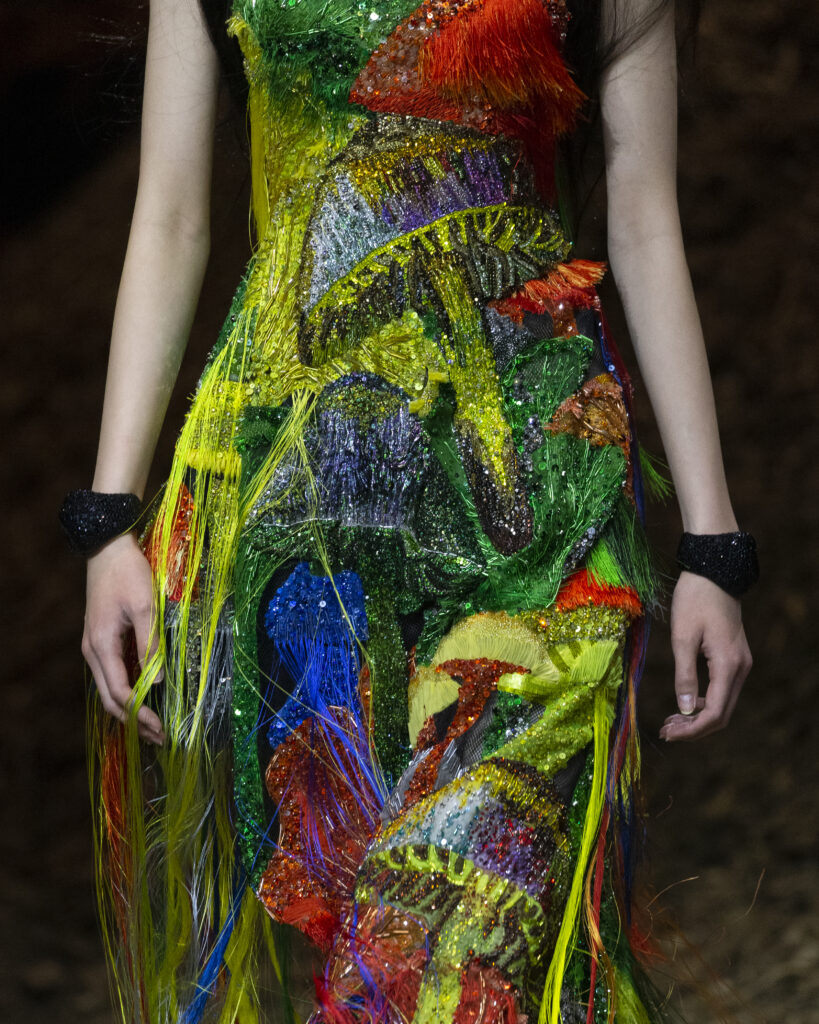 The Intersection of Animal Rights
Fashion, at all levels, pivots around a desire for something new. But, the industry's rapid adoption of mycelium-based textiles hits more than one note. "It's at the intersection of animal rights and fashion's disposability," explains Bayer. And that offers a new take on opulence. It's no secret that the industry is one of the world's biggest polluters. This emerging biomaterial doesn't contain plastic and can be quickly produced. It eschews cattle farming and its associated pollution, and is also biodegradable.
A guiltless glamor, of sorts, but one that requires a little extra care. Stamets has described mushrooms as "the grand recyclers of Nature." A wonderful trait in the great outdoors but one that requires maintenance in a wardrobe. "Every six to nine months you'll need to rub a fresh, plant-based oil through it," Bayer warns. "If you don't, it will break down." But this is a small price to pay for a more sustainable industry, as the effects of climate change remain visible the world over. One that considers animal cruelty and negative environmental effects alongside beauty and profit. As McCartney has poignantly said: "This is the future of fashion. If we can get this right, then we can really make a huge impact on the planet."
Feature Photo Courtesy of the Alexander McQueen Fall 2022 Collection.
Originally featured in our Fall 2022 Issue