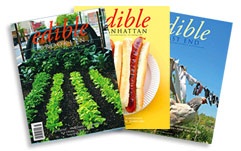 Last week's winner in our series of weekly reader contests is Sabrina Korber, who told us about her favorite seafood market (see her wise words below). Each week we choose one winner from comments on both Edible Brooklyn.com and Edible Manhattan.com, and this time Korber scored a Bodum Coffee press. This week's contest winner will take home The New York Foodie special, which is a triple shot: A year's subscription to Edible Manhattan, Edible Brooklyn and Edible East End, which covers the Long Island coastline. That's a lot of Edible!
Here's how to enter to win this week's contest: Tell us about your favorite supermarket in the comments below before midnight on Friday. Be sure to register with a real email address so we can contact you later if you win. We'll pick a reader based on what we think is the best response. Extra points for those who lead us to best–ofs we haven't already tracked down for our online listings.
Now back to last week's contest winner: We encourage you to read all the answers both here and on Edible Brooklyn.com, since they covered great fish shops around the city, including Staten Island and Queens, which is the home of our winning answer from Korber, who posted on Edible Manhattan's site:  It was tough to pick a winner, but we chose Korber because she picked a place where you could pick out a fish and eat it there. We like that. (However, we were a little bummed nobody suggested the great seafood companies that bring in their catch directly to city Greenmarkets. No middleman means extra-fresh and excellently priced!)
Here's what Korber said: "The best fresh seafood in Astoria is Astoria Seafood Shop on 33rd St. and 37th Ave.  and you can kill two birds with one stone in multiple ways: While you're picking up your fish to cook for dinner, you can sit and enjoy lunch.  They will clean and debone anything you buy and the prices are so reasonable.  Or if you are going to eat, choose what you want and they'll prepare it right there."
It's just a few blocks from Northern Boulevard, the N/Q and the E/M/R, the massive beer garden called Studio Square, plenty of decent Brazilian food and Brooklyn Grange Farm, so even if you don't live in the area, we suggest you keep it in mind should you be passing through.